Marketing your home with Ray White Chermside can make a difference to the outcome you achieve.
As the largest property advertiser in Australia, we know how to generate maximum market coverage targeted at genuine buyers through a variety of thoughtfully selected mediums and sales techniques. We will always work towards achieving maximum price for your property.
Each property is a unique proposition and every vendor has individual requirements which must be catered to. At Ray White Chermside we design marketing packages which start from just $100.00 and are completely tailored to your specific needs and goals.
Below are our 3 most commonly used packages which have been proven to deliver the results our past and present vendors have required; each have their own benefits and can also be adjusted to suit a client's needs: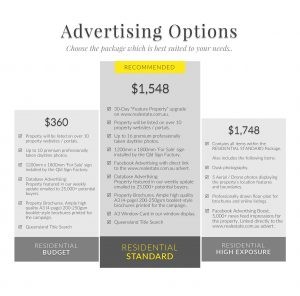 Frequently Asked Questions
What does $100.00 in advertising include?
Your property will be listed on over 10 of the most popular real estate portals, including realestate.com.au, domain.com.au and raywhite.com.
We have an ever-growing database of over 25,000 potential buyers, with varying requirements, budgets and locations; local, interstate and overseas. This database which is exclusively used by Ray White Chermside, will feature your property as a new listing.
Open for inspections and any appointments made by potential buyers.
Ample high-quality colour brochures will be produced for open homes and inspections; generally 200/250gsm A4 booklets with 4 pages and printed with multiple photo-quality images of the property.
Your property will be featured in our window display.
Your property will appear in our monthly property guide.
Do we offer any other advertising options?
We do recommend professional photography for each and every property we list for sale. Pricing for professional photos can range from $80.00 to $350.00, depending on quantity, dusk or daytime, ground shots or drone photos, etc. For standard residential properties (ie, homes, units and townhouses) we recommend 12-16 photos, which generally costs between $150.00-$200.00 for daytime photos.
We also recommend a professionally installed signboard. Pricing can range from $60.00 for a small sign, up to $199.00 for a photo sign with advertising text. For standard residential properties (ie, homes, units and townhouses) we recommend a 1200mm x 1800mm standard for sale sign, which generally costs $88.00 and is installed within 24 hours.
We can provide a list of additional 'optional' advertising items upon request. These include internet upgrades, newspaper advertising, Facebook advertising and many other supportive items.
Additional advertising upgrades can be recommended to clients, based on their individual circumstance, ie, should there be an urgency to sell within a certain time frame.
Call Ray White Chermside on (07) 3350 1800 for a confidential discussion or get started by arranging an obligation-free property appraisal by clicking here.